Winona Peach Festival, Niagara Falls, and NOTL (SUN, 25 AUG 2019)
Winona Peach Festival, Niagara Falls, and NOTL (SUN, 25 AUG 2019)
Winona Peach Festival, Niagara Falls, and Niagara-on-the-Lake
(SUN, 25 AUG 2019)
Tour's duration: approx. 13 hours
3 Pick-up locations: (Scarborough, York Mills, and Mississauga)

************  ITINERARY ***************  
8.00 AM: Our 1st Pick-up location is Scarborough Town Centre (Please arrive 15 Min before the departure)
8.30 AM: Our 2nd Pick-up location is York Mills Station 
9.00 AM: Our 3rd pick-up location is: Mississauga. See below details for parking* 
10.00 – 12.00 PM: Winona Peach Festival
The Winona Peach Festival began as an event in Canada's Centennial year, 1967. This event showcases products like The Peach Festival has something for everyone! Our Arts & Craft section is nestled in our treed area and offers only handmade items, the Midway put on by Robertson Amusements has rides and games for all ages, our Commercial Exhibit area has many vendors with various products for sale, the Peach of a Car Show operates on Saturday and Sunday and has approximately 40 vehicles on display. Last but not least is our Food Court, we have a multitude of foods to satisfy everyone, gluten free, dairy free, many peach filled pies, crepes, cobbler and our famous Peach Sundae! Come and make the Winona Peach Festival your family tradition etc. in the Consumer & Carnivals industry. Lunch on your own at the festival's food court: http://winonapeach.com/food-court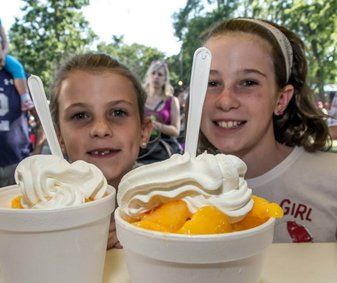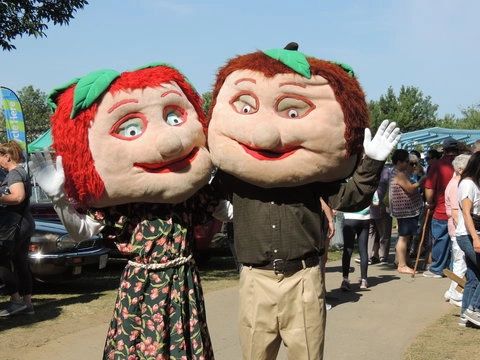 12.30 –1.30: Wine tour/tasting/shopping at the Konzelmann Estate Winery (including their amazing Peach Wine- made from local Niagara-on-the-Lake's fresh peaches.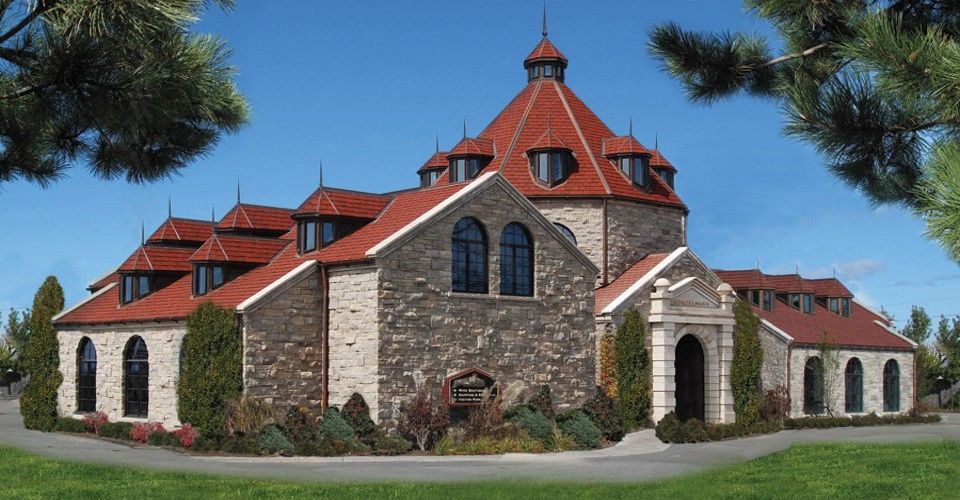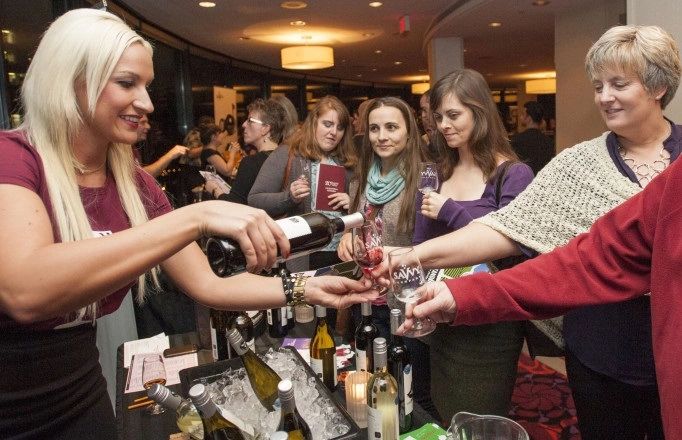 1.45 – 3.00: Free time in Niagara-on-the-lake's main street "Queen street". Discover the historic town of Niagara-on-the-Lake is one of the most beautiful towns in Canada. We will have some time to stroll in the Old Town shopping district, which boasts of a number of quaint shops, boutiques and restaurants, fine hotels, as well as public and private art galleries, museums...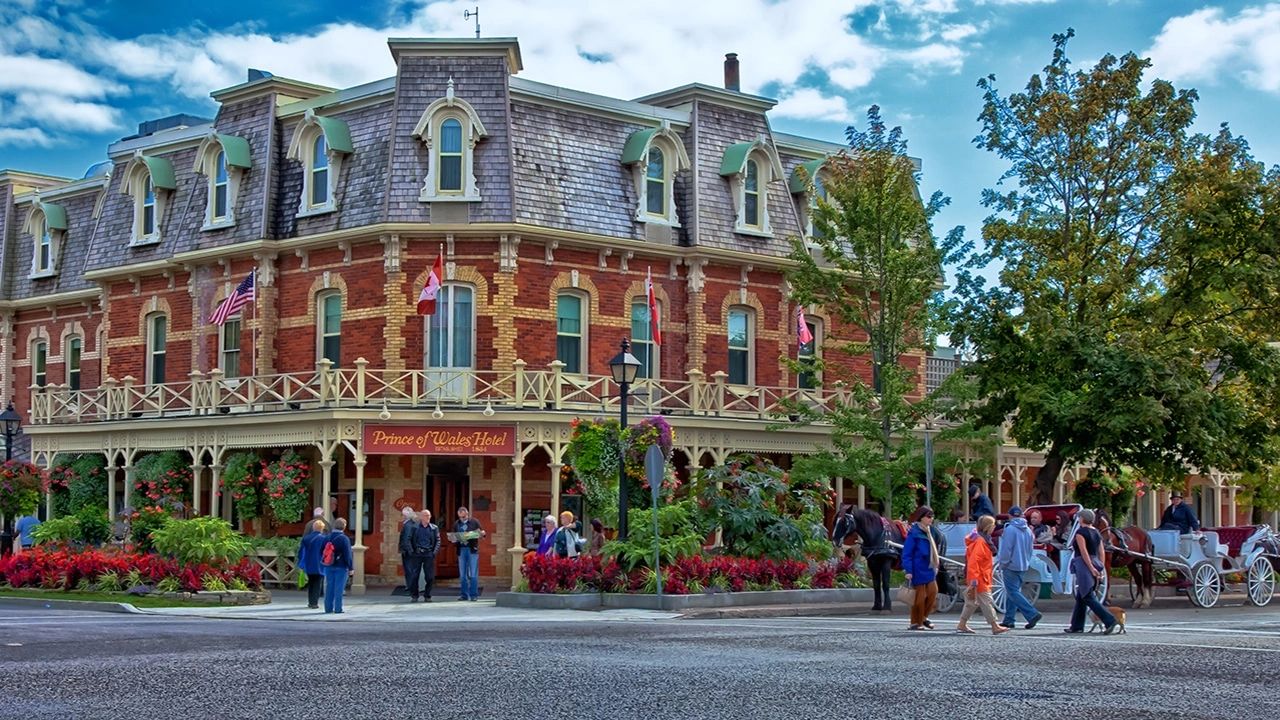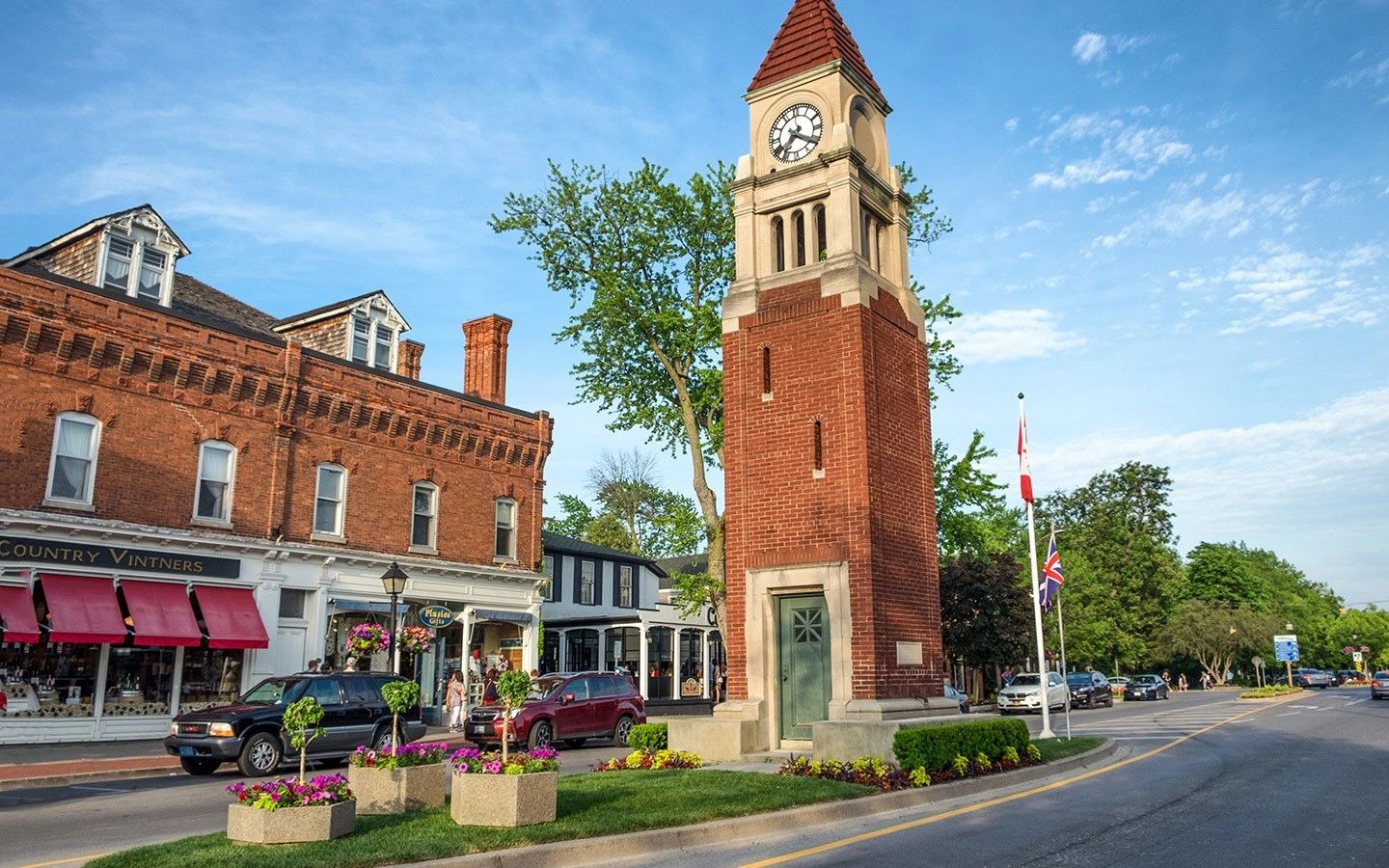 3.30 – 5.30: Free time to enjoy the beautiful attractions of Niagara Falls on your own: 
·          Walk along the falls to the Table Rock Welcome Centre, perched directly above the Horseshoe Falls  
·          Visit Casino Niagara /or/ Fallsview Casino Resort 
·          Visit Clifton Hill known the "Street of Fun" and the exciting Niagara SkyWheel
·          Visit the Bird Kingdom
·          Enjoy Hornblower Niagara Cruises. (9:00 am-6:00 pm) Every 30-Min
·          Walk through Queen Victoria Park (beside the American and Canadian Horseshoe Falls), and see valuable collection of unique native and international plants and beautifully maintained gardens.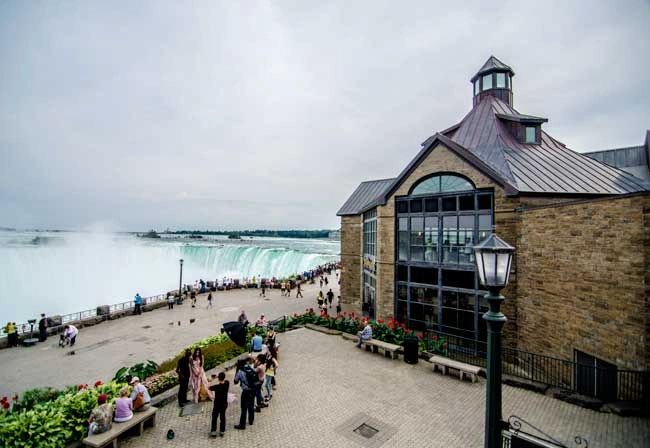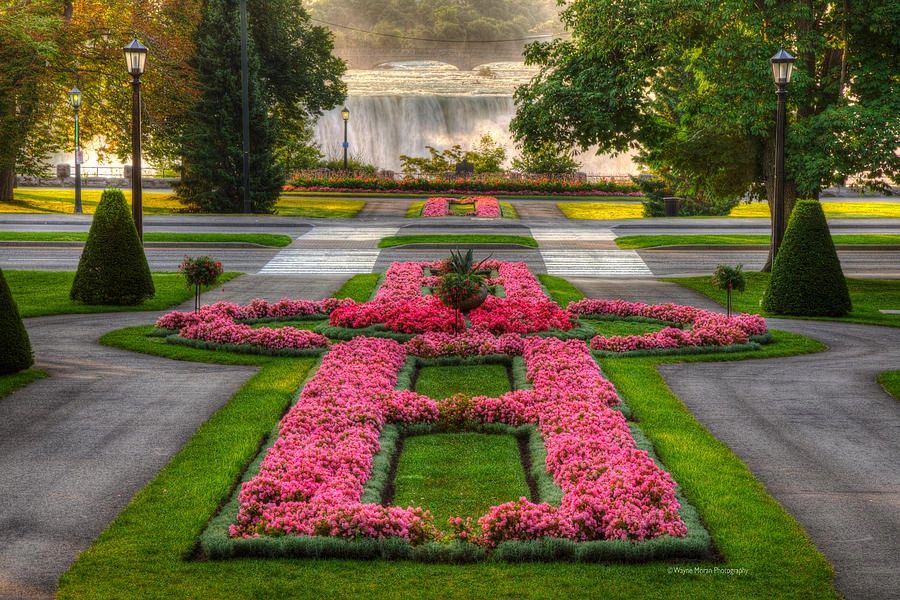 5.30 – 6.30 PM: Enjoy a delicious dinner at the Summit Suite Buffet @ SKYLON TOWER. Located 775 feet above the Falls, the Summit Suite Buffet provides both spectacular views and fine food for a truly uncommon Niagara Falls dining experience. Also enjoy the Ride-to-the-Top and Indoor/Outdoor Observation Decks at Skylon Tower.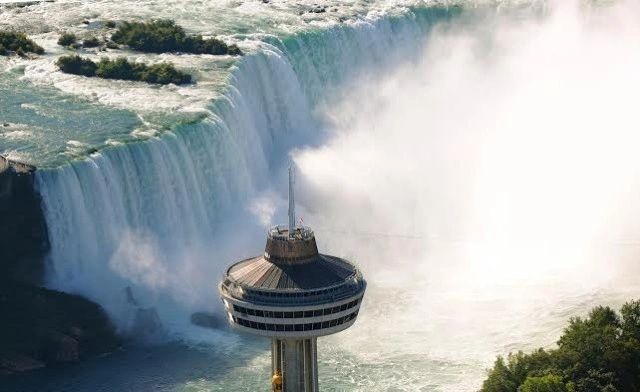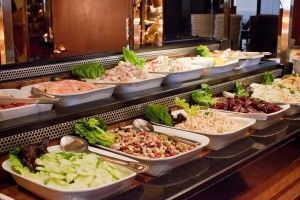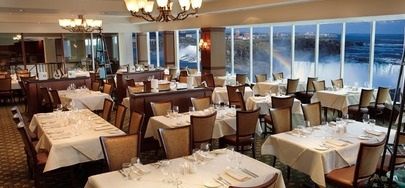 6.45 PM: Drive back to Toronto
8.00 PM: drop-off @Mississauga
8.30 PM: drop-off @ York Mills Station
9.00 PM: drop-off @ Scarborough Town Centre 
The drop off times are all approximate, and subject to change based on the Traffic.
*****************************************************
PRICES:
Per person: $129 + 13% HST  
**All prices are per person, in Canadian dollars.
**Children 8+ are welcome on this tour, same price as adults.
What's included
·  Round trip transportation on a deluxe highway motor coach with washroom
·  Attending The Winona Peach Festival 
·  Dinner at "Summit Suite Buffet" at Skylon Tower
·  Ride-to-the-Top and Indoor/Outdoor Observation Decks at Skylon Tower
·  Wine tasting at the Konzelmann Winery
·  Free time in Niagara falls and Niagara on the lake
·  Escorted tour by the tour director
·  Complimentary bottled water on the bus
·  All gratuities

SUMMIT SUITE DINNER MENU
5:00 pm - 10:00 pm Daily In Season
COLD STATION
French Baguette Bread and Butter • Assorted Greens Salad • Cucumber Salad • Tomato Salad • Mixed Beans Salad • Mushroom Salad
Seasoned Vegetable Salad • Beet Salad • Potato Salad • Macaroni Salad • Coleslaw Salad • Octopus Salad
Shrimp and Cocktail Sauce • Marinated Gravelax Salmon • Black Forest Ham and Salami • Snap & Eat Crab Legs • Whole Poached Salmon
HOT ENTRÉE STATION
Roast Prime Rib of Beef • BBQ Pork Ribs • Grilled Chicken Breast in Pink Peppercorn Butter Sauce
Breaded Chicken Fingers and French Fries • Fresh Fish of the Day • Steamed Mussels • Mediterranean Calamari
Minestrone Soup • Penne Alfredo • Farfalle Primavera • Rice Pilaf Entrée • Oriental Noodles • Roasted Potatoes • Market Fresh Mixed Vegetables
DESSERT STATION
Skylon's Home Baked Assorted Fresh Cakes, Pastries and Tarts
Assorted Fresh Fruit Selections • Assorted Fresh Cheese
Coffee and Tea
NOTE: 
1.      The tour' activity level: easy
2.      Please dress based on the weather + comfortable walking shoes.
3.      We assign the seats based on first paid first served. In case you and your companion pay separately, to be seated together, please send an email to:  sean@funtours.ca  after placing your order. 
4.      All of our tours are in English Language Only
=========================================
PARKING  / PICK- UP Location 
1st pick-up location: Scarborough Town Centre (Address: 300 Borough Dr, Scarborough, ON M1P 4P5) . The bus stops directly outside the Cineplex movie theatres at the Scarborough Town Centre. This pickup location is suitable for day trips. IF YOU NEED TO PARK YOUR CAR: Park anywhere near the movie theatres. Free parking all day. Cars cannot be left overnight after 2 AM.
2nd pick-up location:  York Mills Station. The bus will stop on Yonge St., directly outside the Starbucks at 4025 Yonge St. This is the York Mills Centre office building on the North-East corner of Yonge St. & York Mills Rd. The York Mills subway station is in the basement of this building. If it is raining or snowing, you are welcome to wait either in Starbucks or in the lobby of the office tower until you see the bus stop in front of Starbucks. For day trips, cars can be parked in the parking lot directly across the street on the North-West corner of Yonge & York Mills Rd. This is a pay and display parking lot.  
3rd pick-up location: Mississauga - The address of the plaza is: 30 Courtneypark Dr E, Mississauga, ON L5T 2Y3. The bus will stop outside the plaza, right in front of the McDonalds- on Hurontario. You can wait in the McDonalds until the bus arrives. The bus will be visible through the restaurant windows. Cars can be parked for the day in the plaza parking lot. Parking is free.
 ************* IMPORTANT NOTIFICATIONS *************
Our trips are for all ages
Our tours are perfectly designed for all ages. However, they are often fast-paced, and sometimes tiring, packed with adventure, new experiences and feel-good moments. Therefore, we ask that anyone wanting to travel with us carefully consider whether any PHYSICAL LIMITATIONS prevent you from fully enjoying our trips.
Traveling with children: Due to the fast-paced nature of our group tours, all children require adult supervision. Some of our more active excursions may not be suitable for children under the age of 8.
Embrace the nature of Group Travel
To get the most out of your tour, pack a positive attitude and an open mind. These are most certainly valuable when travelling in a group. Despite the very best intentions and planning, things can and do go wrong and occasionally we encounter problems beyond our control, such as delayed public transport and adverse weather conditions. In such situations we ask for your patience and we will endeavor to keep as close to our scheduled itinerary as possible.
***************************************
If you have any questions, please email to: info@funtours.ca  - or call: 416-874-1713