Tobermory & Flowerpot Island (JUN-JUL-AUG 2019)
Tobermory & Flowerpot Island (JUN-JUL-AUG 2019)
NOTE: THIS TOUR WILL OPEN FOR BOOKING END OF JANUARY 2019
TOUR'S DURATION: about 14 hours 
2 Pick-up locations: York Mills & Mississauga
Summary of The Day: On today's journey proceed to one of Ontario's must-see attractions, the beautiful Bruce Peninsula. Bruce Peninsula offers visitors miles of majestic shoreline, clear-blue waters, amazing coves, sandy beaches, limestone cliffs, quiet wooded trails, and nearly endless, extraordinary scenery.  
OVERVIEW 
Today, we will journey to one of Ontario's most beautiful attractions, Bruce Peninsula. This majestic setting contains miles of shoreline, clear-blue waters, amazing coves, sandy beaches, limestone cliffs, wooded trails, and much more. Once we are there, we will take a glass-bottom boat tour of Little Tub Harbour in Tobermory. Along the way, we will see the Big Tub Lighthouse and more. After seeing all sorts of interesting features during this tour, we will reach Flowerpot Island, which is part of Fathom Five National Marine Park. Famous for the two "flowerpots" or "sea stacks" on it's eastern shoreline.  Flowerpot Island is about 1.6 kilometers wide and covers 200 hectares (495 acres), with well marked hiking trails covering most of the Island.  The cruise will take us to Fathom five national marine park, (approx. 50 mins cruise), you will see shipwreck on the cruise and will arrive at Flowerpot Island. Then we will take the hiking trail on the island to see the flowerpot, the light house and the museum that tells us the story of the lighthouse keepers ...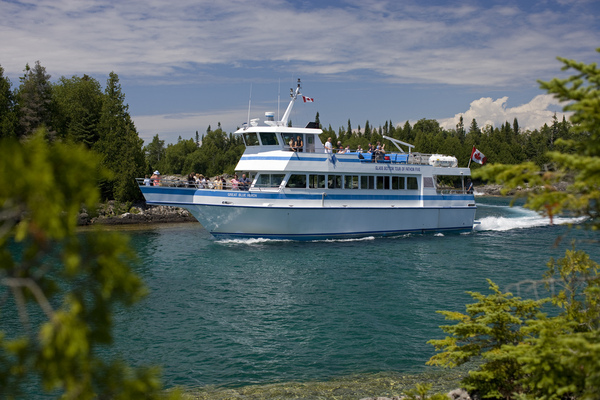 ******************************************

ITINERARY
7.15 AM: Our 1st Pick-up location: York Mills station (4025 Yonge Street). Please arrive 15 Min before the departure time.
7.45 AM: 2nd pick-up: Our 2nd pick-up location is: 30 Courtney Park Drive East, Mississauga. See below details for pick-ups and parking*.
We head towards Tobermory (290 km = about 3.5 hrs).  
We will have a coffee/washroom stop on the way 

12.00 noon: Arrive in Tobermory. Enjoy a simple 3-course lunch at the dining room of Tobermory Princess hotel (including Salad – White Fish & Chips - Fruits)- The vegetarian option is available - Must be ordered before the trip. 
After the lunch, you will have some time to walk around Tobermory Harbourfront.
1.30 PM: Line up to board the boat

1.50 PM: Get on the boat and enjoy a one hour amazing scenic cruise
2.40 PM: Arrive in the Flowerpot Island, receive short information at the entrance and head to visit the amazing island
5.00 PM: Line up at the duck to board the boat to return to Tobermory
5:30 PM: Board on the jet boat
5:50 PM: Arrive in Tobermory  
6:00 PM: Get on the bus and return to Toronto- (290 km = about 3.5 hrs).
We will have a coffee/washroom stop on the way
We expect to arrive in Mississauga around 9.30 Pm and York Mills station around 10.00 PM (With regular traffic)
===========================================
PRICE: 
Adult/Child: $159 + 13% HST
**All prices are per person, in Canadian dollars. 
**Children 8+ are welcome on this tour, same price as adults.
What's Included
• Round trip transportation on a Highway coach 
• A simple 3-course lunch (including Salad – White Fish & Chips - Fruits) . The vegetarian option is "stir fry on rice".  
• Glass bottom Boat Cruise from Tobermory to Flowerpot Island and vice versa

• Admission to Fathom Five National Marine Park
• Guided visit to the Flowerpot Island
• Accompanying Tour Director 
• 
Complimentary bottled water on the bus. 
• All gratuities
========================================== 

NOTE

1-Please do not forget to bring your bathing clothes and towel in case you want to swim. Also, please be informed all risks and responsibilities involved in swimming/hiking and personal activities in this trip is waved by Toronto Fun Tours.

2-Due to weather conditions if the boat ride is not operating, we will take a Bruce Peninsula National Park walking tour instead. And your cruise ticket will be refunded. 
3-This tour is considered as easy-medium activity. The hikes last approximately 1-1.5 hour. 
4- Appropriate footwear "walking shoes" and clothing (based on the weather) are highly recommended.
5- We assign the seats based on first paid first served. In case you and your companion pay separately, to be seated together, please send an email to:  info@funtours.ca  after placing your order.  
6- If you are vegetarian, please let us know up to 2 days before the trip.

**********  TOUR ATTRACTIONS *********** 

The Bruce Peninsula is a peninsula in Ontario, Canada, that lies between Georgian Bay and the main basin of Lake Huron. The scenic region of Bruce peninsula houses two national parks - the Bruce Peninsula National Park and Fathom Five National Park - and miles of gorgeous, untouched coastline. Popular among tourists from Toronto, the coast features frequent boat tours to the famous Flowerpot Island, as well as kayaking, snorkeling, and diving. Visitors are also encouraged the explore the forests and caves riddled throughout the peninsula, so long as they respect the local wildlife, which include black bears, red-shouldered hawks, and the endangered Eastern Massasauga rattlesnake.
Little Tub Harbour: This quaint, picturesque little harbor on Bruce Peninsula in Ontario is the main settlement near Bruce Peninsula National Prak, considered one o the most beautiful locations in Canada, jutting out into Lake Huron 
Big Tub Harbour: Resort This resort is a laid-back motel right on the waterfront of Lake Huron. It is a beautiful place to sit back and admire the scenery. There is a wonderful array of activities to take part in, like kayaking.
Tobermory is a small community located at the northern tip of the Bruce Peninsula in the municipality of Northern Bruce Peninsula. It is 300 km northwest of Toronto. The closest city to Tobermory is Owen Sound, 100 km south of Tobermory and connected by Highway 6.
Flowerpot Island, ON: Flowerpot Island is an island in Georgian Bay, in the Canadian province of Ontario and is a part of Fathom Five National Marine Park. The island spans 2.1 kilometres (1.3 mi) from east to west, and 1.5 kilometres (0.93 mi) from north to south, and has a total area of 2 square kilometres (490 acres). The name of the island comes from two rock pillars on its eastern shore, which look like flower pots. A third flowerpot once stood, but tumbled in 1903.

Boat Cruises to Flowerpot Island: The Glass Bottom Vessel touring The Shipwrecks at the head of Big Tub Harbour, Flowerpot Island Light Station and the two Flowerpot Rock Formations. You will disembark to explore the Flowerpot Island on foot and then take a jet boat back to the mainland!
****************************************************************

PARKING  / PICK- UP Location 

1st pick-up location: York Mills Station. The bus will stop on Yonge St., directly outside the Starbucks at 4025 Yonge St. This is the York Mills Centre office building on the North-East corner of Yonge St. & York Mills Rd. The York Mills subway station is in the basement of this building. If it is raining or snowing, you are welcome to wait either in Starbucks or in the lobby of the office tower until you see the bus stop in front of Starbucks. For day trips, cars can be parked in the parking lot directly across the street on the North-West corner of Yonge & York Mills Rd. This is a pay and display parking lot.

2nd pick-up location: Mississauga - The address of the plaza is 30 Courtney Park Drive East, Mississauga. The bus will stop outside the plaza, right in front of the McDonalds -on Hurontario. You can wait in the McDonalds until the bus arrives. The bus will be visible through the restaurant windows. Cars can be parked for the day in the plaza parking lot. Parking is free.
****************************************************************

If you have any questions, please email to: info@funtours.ca - Emergency contact: 416-897-3020