Explore Owen Sound's Waterfalls and Orangeville Jazz Festival (SAT, 1 JUN 2019)
Explore Owen Sound's Waterfalls and Orangeville Jazz Festival (SAT, 1 JUN 2019)
Explore Owen Sound's Waterfalls and Orangeville Jazz Festival (SAT, 1 JUN 2019)
3 Pick-up locations: Scarborough, York Mills & Mississauga

Tour's duration: about 13 hours
****************************************************************
8.00 AM: Our 1st Pick-up location: Scarborough Town Centre.  Please arrive 15 Min before the departure time.
8.30 AM: Our 2nd pick-up location is: York Mills station
9.00 AM: Our 3rd pick-up location is: 30 Courtney Park Drive East, Mississauga. See below details for pick-ups.
Drive towards Owen Sound (160 Km = 2 hours) 
9.45 – 10.15 AM: We will have a short coffee/washroom stop on the way. 
11.15 AM – 12.30 PM: Hike to the Hogg's Falls 
Hoggs Falls a smaller, undeveloped, beautiful, yet still remarkably easy to access waterfall system which is part of the Niagara Escarpment. At the extreme south end of the Beaver Valley near where the Boyne River joins the Beaver, is "Grey County's best-kept secret," Hogg's Falls.
Hogg's Falls Loop is a 5.3 kilometer moderately trafficked loop trail located near Grey Highlands, Ontario, Canada that features a waterfall and is rated as moderate. The trail offers a number of activity options and is best used from March until October.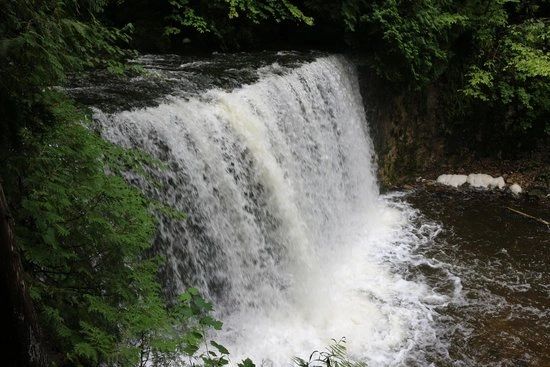 1.00 – 2.30 PM: Visit the Walters Falls 
Walters Falls is located on the Big Head River in the village of Walters Falls. The falls are located next to the beautiful Falls Inn. There are remnants of an old mill at the top and there is a small bridge near the top where you can cross over the river and view the falls from a different perspective. The falls have been estimated to be about 14 m in height. Access is very easy, the parking is almost right next to the falls.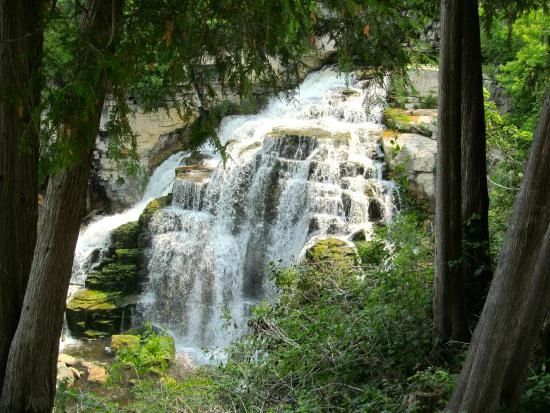 Enjoy a lunch buffet at the Falls Inn & Spa - Walters Falls. Overlooking Walter's Falls, this country-style hotel is 21 km from Markdale Golf and Curling Club and 29 km from downtown Owen Sound. An upscale, all-day restaurant with Water views and a patio serves modern Canadian cuisine.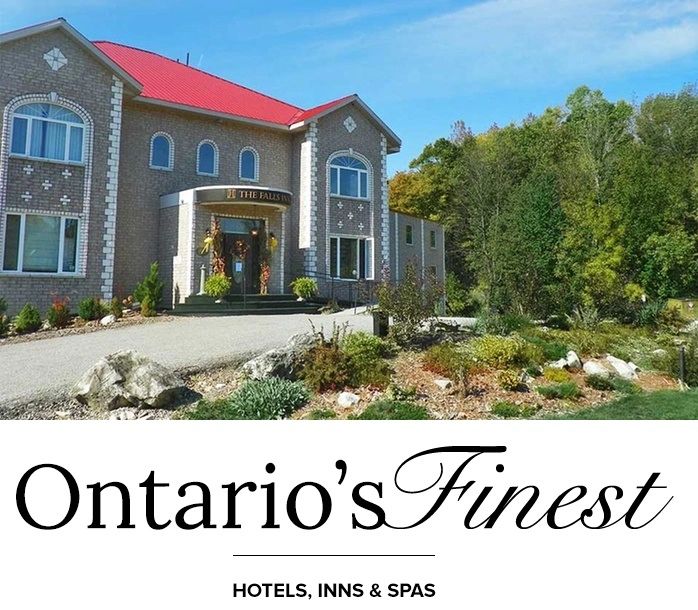 3.00 – 4.00: Hike to the Inglis Falls 
Known as "the best waterfalls in the area" is the most visited, anytime of year!   One of three waterfalls that surround the City of Owen Sound, Inglis Falls is the best known and most visited. Situated in the heart of the 200-hectare Inglis Falls Conservation Area, Inglis Falls is an 18 metre high cascade, created by the Sydenham River meeting the edge of the Niagara Escarpment. The erosive power of the water has carved a deep gorge at the base of the falls. On a clear day you can see down the valley into the City of Owen Sound and out to the Owen Sound harbour.
There is something for everybody; a viewing platform for those unable to see over the stone wall, 7.42 km of trails of various difficulty, access to the Bruce Trail, more than 20 species of ferns, bird watching opportunities, a series of geological potholes, historical remains of a grist mill, washrooms, picnic facilities and visitor information centre.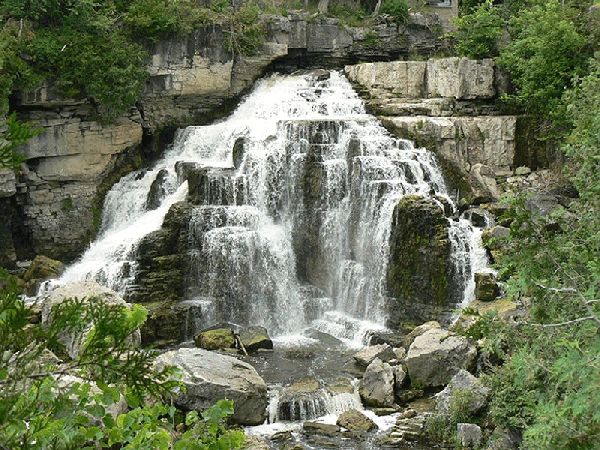 5.30 - 7.30 PM:
Enjoy attending the 17th Annual
Orangeville Blues and Jazz Festival
+ time for dinner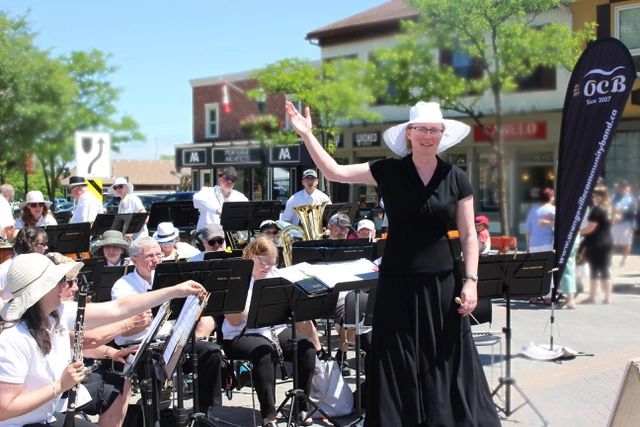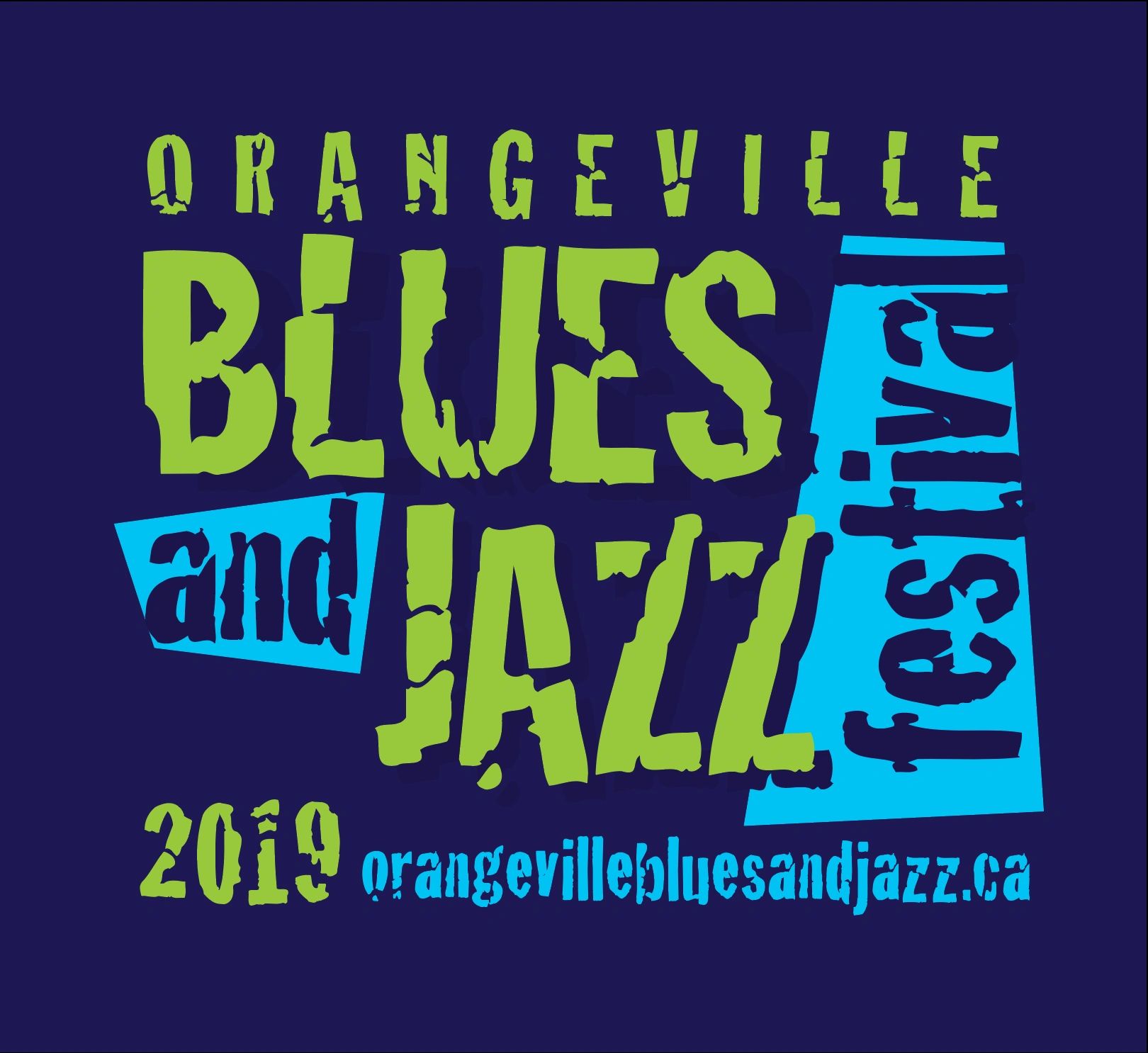 This award-winning festival boasts over 80 acts on multiple stages over three days. The festival features a full range of outstanding musical performances, special events, workshops, and food and craft vendors. The festival on Saturday takes place on downtown Broadway as a celebratory street festival. Hands down, this is one of the most unique and memorable entertainment experiences in the Headwaters region.
7:30 PM: Drive back to Toronto  
8.00 PM: drop-off @ Mississauga 
8.30 PM: drop-off @ York Mills Station
9.00 PM: drop-off @ Scarborough Town Centre

****************************************************************


What's Included
• Round trip transportation on a Highway coach 
• A delicious lunch buffet at the Falls Inn & Spa - Walters Falls  
• Visit / hike 3 waterfalls:
Hogg's Falls, Walters Falls, and Inglis Falls

• All admissions 
• Attending the 17th Annual Orangeville Blues and Jazz Festival
• Accompanying Tour Director 
• Complimentary bottled water on the bus. 
• All gratuities
LUNCH MENU
Garden salad with Inn made dressing & Caesar salad
Chicken stuffed crepes
Inn made vegetarian frittata
Full dessert table including fresh fruit
Tea, coffee and pop service
*********************** IMPORTANT NOTES 
***********************
1) Level of difficulty: Moderate
As a minimum, you will need an average level of fitness and mobility to join this tour. Partaking in this tour can be more "physically demanding" than your more conventional holidays. You should be able to walk 2 hours without the aid of another person, climb a couple of stairs, step on and off buses and other forms of transport. In each location, we will have approx. 30 min to 2 hours guided hike to see the attractions and take pictures.
Suitable to those in good health, who are doing some sport regularly, and who are used to all-terrain walks 2 hours without the aid of another person

2) Please be informed all risks and responsibilities involved in hiking in this trip is waved by Toronto Fun Tours.
3) Appropriate clothing and footwear are highly recommended (based on the weather). Please do not forget to put your hiking/walking shoes
4) We assign the seats based on first paid first served. In case you and your companion pay separately, to be seated together, please send an email to info@funtours.ca  after placing your order. 
****************************************************************


PICK- UP Locations 


1st pick-up location: Scarborough Town Centre (Address: 300 Borough Dr, Scarborough, ON M1P 4P5) . The bus stops directly outside the Cineplex movie theatres at the Scarborough Town Centre. This pickup location is suitable for day trips. IF YOU NEED TO PARK YOUR CAR: Park anywhere near the movie theatres. Free parking all day. Cars cannot be left overnight after 2 AM.


2nd pick-up location: York Mills Station. The bus will stop on Yonge St., directly outside the Starbucks at 4025 Yonge St. This is the York Mills Centre office building on the North-East corner of Yonge St. & York Mills Rd. The York Mills subway station is in the basement of this building. If it is raining or snowing, you are welcome to wait either in Starbucks or in the lobby of the office tower until you see the bus stop in front of Starbucks. For day trips, cars can be parked in the parking lot directly across the street on the North-West corner of Yonge & York Mills Rd. This is a pay and display parking lot.


3rd pick-up location: Mississauga - The address of the plaza is 30 Courtney Park Drive East, Mississauga. The bus will stop outside the plaza, right in front of the McDonalds -on Hurontario. You can wait in the McDonalds until the bus arrives. The bus will be visible through the restaurant windows. Cars can be parked for the day in the plaza parking lot. Parking is free. 
****************************************************************


If you have any questions, please email to: info@funtours.ca  - or call: 416-874-1713