Festival of Northern Lights and Owen Sound's Waterfalls (SAT, 16 NOV 2019)
Festival of Northern Lights and Owen Sound's Waterfalls (SAT, 16 NOV 2019)
Festival of Northern Lights and Owen Sound's Waterfalls 

SAT, 16 NOV 2019


3 Pick-up locations: Scarborough, York Mills & Mississauga

Tour's duration: about 12.5 hours
************  ITINERARY ***************  
10.30 AM: Our 1st Pick-up location is Scarborough Town Centre (Please arrive 15 Min before the departure)
11.00 AM: Our 2nd Pick-up location is York Mills Station 
11.30 AM: Our 3rd pick-up location is: Mississauga. See below details for parking*
12.30 – 1.00 PM: We will have a short coffee/lunch stop on the way. 
2.00 PM – 4.00 PM: Visit the following Waterfalls  
Hogg's Falls (easy – medium 15 min short walk): Hoggs Falls a smaller, undeveloped, beautiful, yet still remarkably easy to access waterfall system which is part of the Niagara Escarpment. At the extreme south end of the Beaver Valley near where the Boyne River joins the Beaver, is "Grey County's best-kept secret," Hogg's Falls.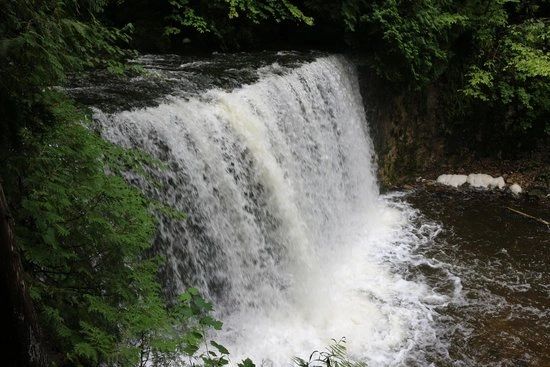 Inglis Falls (easy 10 min short walk): Known as "the best waterfalls in the area" is the most visited, anytime of year!   One of three waterfalls that surround the City of Owen Sound, Inglis Falls is the best known and most visited. Situated in the heart of the 200-hectare Inglis Falls Conservation Area, Inglis Falls is an 18-metre-high cascade, created by the Sydenham River meeting the edge of the Niagara Escarpment. The erosive power of the water has carved a deep gorge at the base of the falls. On a clear day you can see down the valley into the City of Owen Sound and out to the Owen Sound harbour.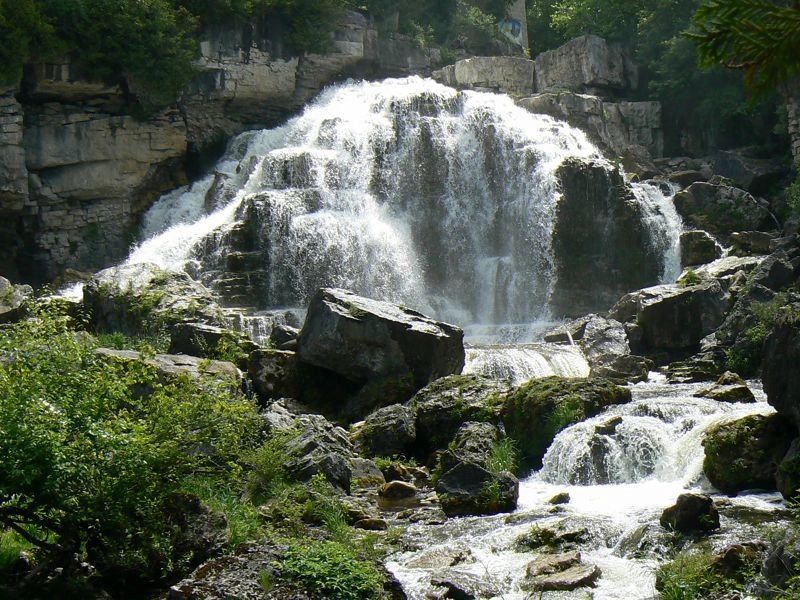 4.30 – 5.45 PM:  Enjoy a delicious dinner Buffet at Stone Tree Restaurant in Owen Sound.
Lunch Menu: Garden Salad + Grilled chicken, Fish, & potato and vegetable + Tea or Coffee or pop
*** Vegan/Gluten free option is "stuffed grilled pepper" to be ordered up to 2 days before the trip.
6.00 – 8.00 PM: Tour of Owen Sound's 'Northern Lights' displays 
You will see light displays along the river and streets in downtown Owen Sound, as well as into Harrison Park
 Enjoy the beauty of the holiday season with more than 400 light displays twinkling in Harrison Park and along the banks of the Sydenham River in downtown Owen Sound.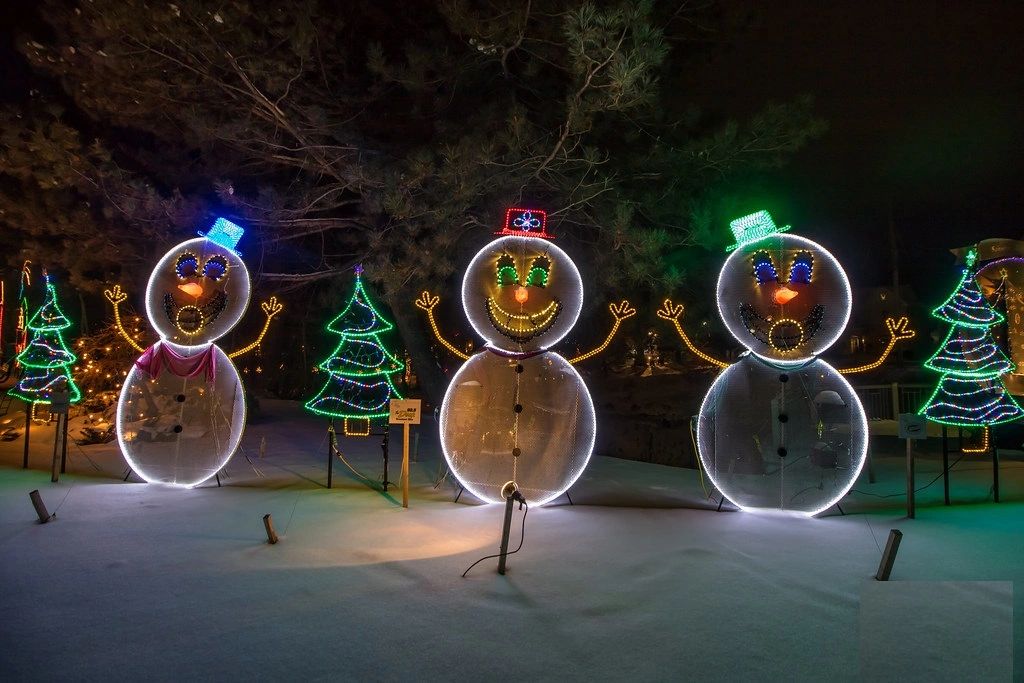 'The Festival of Northern Lights'
Owen Sound's Christmas Light Displays
Created all the way back in 1987, this impressive holiday lights event has grown from an annual community tradition into a must-see spectacle of next-level illuminated art. Hundreds of local volunteers come together each year, according to the event's website, to set up nearly 400 displays and 25+ kilometres of lights to illuminate the city's harbour, riverbanks, downtown core, and Harrison Park. They've got everything from horse-drawn sleigh rides and skiing santas to gigantic dragons made of light. This year, the Festival of Northern Lights is celebrating its 32nd anniversary 
 
8.00 PM: Drive back to Toronto

10.00 PM: Mississauga
10.30 PM: York Mills Station 
11.00 PM: Scarborough Town Centre 
****************************************************************

PRICES:
Per person: $119 + 13% HST  
**All prices are per person, in Canadian dollars.
**Children 8+ are welcome on this tour, same price as adults.
What's Included
• Round trip transportation on a Highway coach 
• A delicious Dinner buffet at Stone Tree restaurant
• Visit 2 waterfalls:

 
Inglis Falls and 

Hogg's Falls in Grey County
• 

Attending the Festival of Northern Lights in Owen Sound
• Accompanying Tour Director 
• Complimentary bottled water on the bus. 
• All gratuities
NOTES  
• This tour is considered as easy-medium activity. The walking last approximately 1 hour.  
• Our tours are in ENGLISH language only.

·  Appropriate clothing and footwear are highly recommended (based on the weather)
·  We assign the seats based on first paid first served. In case you and your companion pay separately, to be seated together, please send an email to:  sean@funtours.ca  after placing your order
******************************************
PICK- UP Locations 

1st pick-up location: Scarborough Town Centre (Address: 300 Borough Dr, Scarborough, ON M1P 4P5) . The bus stops directly outside the Cineplex movie theatres at the Scarborough Town Centre. This pickup location is suitable for day trips. IF YOU NEED TO PARK YOUR CAR: Park anywhere near the movie theatres. Free parking all day. Cars cannot be left overnight after 2 AM.


2nd pick-up location: York Mills Station. The bus will stop on Yonge St., directly outside the Starbucks at 4025 Yonge St. This is the York Mills Centre office building on the North-East corner of Yonge St. & York Mills Rd. The York Mills subway station is in the basement of this building. If it is raining or snowing, you are welcome to wait either in Starbucks or in the lobby of the office tower until you see the bus stop in front of Starbucks. For day trips, cars can be parked in the parking lot directly across the street on the North-West corner of Yonge & York Mills Rd. This is a pay and display parking lot.


3rd pick-up location: Mississauga - The address of the plaza is: 30 Courtneypark Dr E, Mississauga, ON L5T 2Y3. The bus will stop outside the plaza, right in front of the McDonalds -on Hurontario. You can wait in the McDonalds until the bus arrives. The bus will be visible through the restaurant windows. Cars can be parked for the day in the plaza parking lot. Parking is free. 


************* IMPORTANT NOTIFICATIONS *************
Our trips are for all ages
Our tours are perfectly designed for all ages. However, they are often fast-paced, and sometimes tiring, packed with adventure, new experiences and feel-good moments. Therefore, we ask that anyone wanting to travel with us carefully consider whether any PHYSICAL LIMITATIONS prevent you from fully enjoying our trips.
Traveling with children: Due to the fast-paced nature of our group tours, all children require adult supervision. Some of our more active excursions may not be suitable for children under the age of 8.
Embrace the nature of Group Travel
To get the most out of your tour, pack a positive attitude and an open mind. These are most certainly valuable when travelling in a group. Despite the very best intentions and planning, things can and do go wrong and occasionally we encounter problems beyond our control, such as delayed public transport and adverse weather conditions. In such situations we ask for your patience and we will endeavor to keep as close to our scheduled itinerary as possible.
***************************************
If you have any questions, please email to: info@funtours.ca  - or call: 416-874-1713