National Parks of Arizona, Utah, and Nevada
Hiking Tours / by Air and Land
8 Day
Itinerary
Phoenix - Sedona - Grand Canyon - Lake Powell & Horseshoe Bend - Antelope Canyon - Bryce Canyon - Zion National Park - Valley of Fire - Las Vegas (8 days / 7 nights)
Join us on an amazing trip to discover the National Parks of Arizona, Utah, and Nevada!
****************************************************************
Tour's duration: 8 days / 7 nights
1 departure: (16-23 April, 2022) THIS TOUR IS FOR BEGINNER HIKERS
Group size: Maximum 10 participants each departure (small group tour)
****************************************************************
THIS TOUR WILL BE CONDUCTED BY "IAN CLARK", ONE OF THE BEST CANADIAN-AMERICAN HIKE LEADERS SPECIALIZED IN ARIZONA, Photographer, Sunset & Waterfall lover, and much more :)
This is Ian's profile in Meetup: https://www.meetup.com/TrailHike-RichmondHill/members/14275143/

ZOOM MEETING DATE: Mar 10, 2021 06:30 PM EST Join Zoom Meeting here: https://us02web.zoom.us/j/88487562904?pwd=L25GbWZNNjdOVXorS0k0L3lSaW14QT09
Meeting ID: 884 8756 2904
Passcode: 390502
*********************** ITINERARY *************************
Day 1) Toronto – Phoenix – Sedona
Departing Flight: AC1837 Toronto, CA (YYZ) - Phoenix, US (PHX) 8.55AM - 11.48AM
Drive to Sedona upon arrival (194 km = 2 hrs drive)
- Visit Red Rock Ranger District Visitor Center in Sedona
Check in to your hotel - Arroyo Pinion Hotel, Ascend Hotel Collection in Sedona
- Afternoon drive to The Sedona Airport Overlook. Lookout point with views of the town & rugged red sandstone hills that are illuminated at sunset.

Day 2) Sedona – Grand Canyon
- Devil's Bridge 4 Km easy-medium hike
Afternoon drive to Grand Canyon (183 km = 2.5 hrs drive)
Check in to your hotel - Best Western Premier Grand Canyon Squire Inn in Grand Canyon
- Sunset at Hermit's Rest (23km = 40 min drive)

Day 3) Grand Canyon - Page
- Walk the South Rim Trail 4.5k = 2 hrs walk (Bright Angel to Visitors Centre)
Afternoon drive to Page (212 Km = 2.5 hrs)
- Horseshoe Bend Overlook
Check in to your hotel - Best Western Plus at Lake Powell in Page

Day 4) Page - Bryce Canyon
- Visit Antelope Canyon (Lower Antelope Canyon in Page, AZ)
Afternoon drive to Bryce Canyon. (250 km = 2hr 45 min)
Check in to your hotel - Best Western Plus Ruby's Inn in Bryce Canyon

Day 5) Bryce Canyon - Zion area
- Visit Bryce Canyon, UT in the morning
- Visit Sunrise Point - Lookout - Queens Garden/Navajo Loop Trail - 2.5k - Inspiration Point (Lookout) – Natural Bridge Arch (lookout) - Rainbow Point and Yovimpa Point (both Lookout)
- If we have enough time, we may visit the Coral Pink Sand Dunes State Park as well on this day
O/N @ Best Western East Zion Thunderbird Lodge

Day 6) Zion area
Morning drive to Zion National Park, Utah (120 km = 1.5 hrs)
Zion National Park (East Entrance) - Drive Mt Carmel Hwy - Canyon Overlook Trail: 1.5k - EMERALD POOLS: 4k – Riverside Walk - Weeping Rock
O/N @ Best Western East Zion Thunderbird Lodge

Day 7) Zion – Valley of Fire – Las Vegas (390 km = 5 hrs drive)
8 AM to 3 PM: Valley of Fire (East Entrance) - Elephant Rock - Lookout - Seven Sisters - Fire Wave 2.5k - Rainbow Vista - Lookout - Arch Rock - Lookout Valley of Fire (West Entrance) Depending on weather conditions - because of a flood, snowmelt.
Check in to your hotel - LINQ Deluxe before 4.00 PM
Tonight, you can enjoy your free time on your own, do optional activities, or join your guide to see:
• The Volcano erupts at the Mirage
• The Dancing Waters at the Bellagio
• Fremont Street Experience – 'Old' Vegas

Day 8) Las Vegas area – Toronto
Today, you can enjoy your free time on your own, do optional activities, Hotel hopping on the Las Vegas Strip:
• The Bellagio Conservatory & Botanical Garden
• The Grand Canal Shoppes at The Venetian
• We may use Las Vegas Tram (free) to get up & down the Strip
You can also join your guide for an excursion to RED Rock Canyon (30 Km west of Las Vegas)

9.00 PM: Transfer from our hotel's lobby to Las Vegas Airport. Return Flight: AC1854 Las Vegas, US (LAS) - Toronto, CA (YYZ) 11.55 PM - 07.06AM+1 AM
Price & Inclusions
PACKAGE PRICE (Land & Air):
· Per person in a Double occupancy: CA$2890 (taxes are included) ON SALE NOW
· Per person in a Single room: CA$3690 (taxes are included) ON SALE NOW
>> IF YOU DO NOT NEED THE AIR, CA$600 will be deducted from the above prices
>> FOR US TRAVELLERS: The conversion rate is currently around 1.30, subject to change at any time. You can always check the conversion rate here: https://www.xe.com/currencyconverter/convert/?Amount=1&From=CAD&To=USD
>> If you need a roommate, please ask. Not guaranteed.
PAYMENT
ONLY a $200 deposit is required to secure your spot. The deposit is refundable until 1 JAN 2022. The balance is due on 2 JAN 2022

Cancellation Schedule:
No Penalty if canceled before 1 JAN 2022
50% Penalty if canceled between 2 JAN 2022 to 2 FEB 2022
100% Penalty if canceled between 3 FEB 2022 to the departure date
****************************************************************
What's included:
• International flights (Toronto - Phoenix & Las Vegas - Toronto) non-stop on Air Canada
• 7-night Hotel accommodation: 1 night in Sedona, 1 night in Grand Canyon, 1 night in Page, 1 night in Bryce Canyon, 2 night in Zion, 1 night in Las Vegas
• 6 Breakfasts
• Resort fee at your hotel in Las Vegas - includes Daily in-room high-speed internet access, All local calls, Fitness center access for two daily
• Private Air-Conditioned Transportation by a 12-seater Van
• Airport Transfers
• Escorted tour by the tour coordinator/Meetup host
• Admissions to the places mentioned in the itinerary such as Grand Canyon, Antelope Canyon, Bryce Cayon, and Zion National Park...
• All Gratuities
*********************** FLIGHT INFORMATION *************************
DIRECT FLIGHTS ON AIR CANADA (12-19 MAR 2020)
SAT, 5 MAR 2022: Toronto – Phoenix
Departing Flight: AC1837 Saturday, March 12th, 2022 Toronto, CA (YYZ) - Phoenix, US (PHX) 9.00AM-11.56AM
SAT, 12 MAR 2022: Las Vegas – Toronto
Return Flight: AC1854 Saturday, March 19th, 2022 Las Vegas, US (LAS) - Toronto, CA (YYZ) 11.05PM - 06.10AM +1


EARLYBIRD BONUS: *1st Checked bag is FREE
Max. weight per bag: 23kg (50lb)
Max. linear dimensions per bag: 158 cm (62in)

Checked baggage allowance:
• 1st bag: $31.50 CAD (per direction, including taxes) Book by JAN 10th, 2022 and get your EARLYBIRD BONUS: *1st Checked bag is FREE
• 2nd bag: $52.50 CAD (per direction, including taxes)
• Carry-on Baggage: you can bring 1 standard article + 1 personal article free of charge. Carry-on's maximum dimensions include wheels and handles (55CMX23CMX40CM). Personal Article's maximum dimensions (33CMX16CMX43CM). Your carry-on baggage must be light enough that you can store it in the overhead bin unassisted.
PLEASE PACK LIGHT (ONLY 1 mid-size bag-23kg). The van doesn't have enough space for any extra bags/carry-on.
**We need the following information from each participant before JAN 10th, 2022. BASED ON YOUR PASSPORT DETAILS.
Please email the information to: info@FunTours.ca
LAST NAME // FIRST NAME // MIDDLE NAME // TITLE // GENDER // DATE OF BIRTH // AEROPLAN #
CHECK-IN: You will be able to check-in individually 24 hours before the departure.
Pickup
You will be picked-up at Phoenix Airport by your tour guide "IAN". He will be holding a sign written "Fun Tours" on it. This is IAN's phone number: +1 416-992-7832
Tour Attractions
Sedona, Arizona
The Red Rock Ranger Station has an amazing visitor center where visitors and locals alike will enjoy learning about the area's many scenic wonders and world-class recreation opportunities.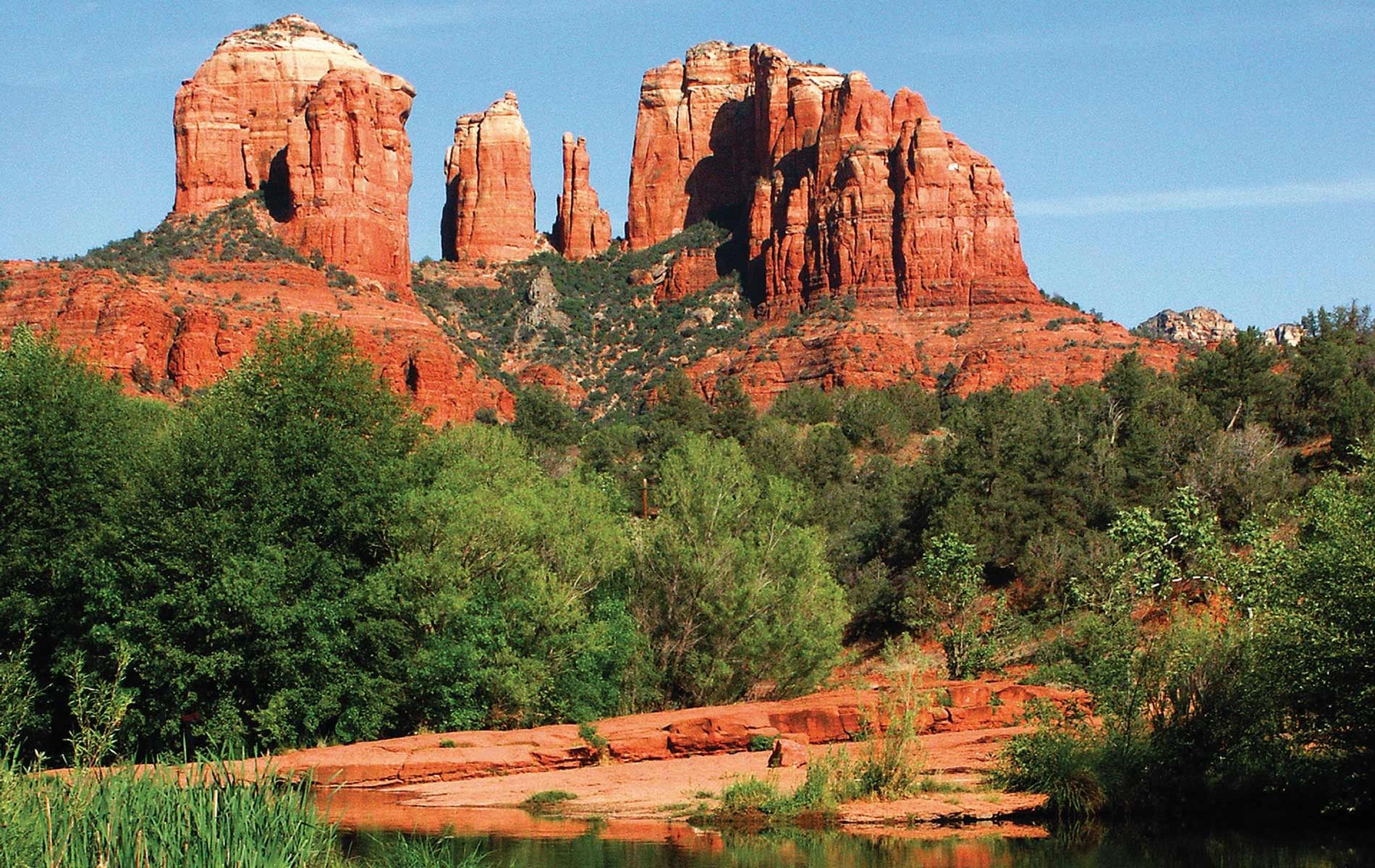 Grand Canyon National Park, Arizona
Grand Canyon National Park, located in northwestern Arizona, is the 15th site in the United States to have been named as a national park. The park's central feature is the Grand Canyon, a gorge of the Colorado River, which is often considered one of the Wonders of the World. The park, which covers 1,217,262 acres (1,901.972 sq mi; 4,926.08 km2) of unincorporated area in Coconino and Mohave counties, received more than six million recreational visitors in 2017, which is the second highest count of all American national parks after Great Smoky Mountains National Park.[5] The Grand Canyon was designated a World Heritage Site by UNESCO in 1979. The park celebrated its 100th anniversary on February 26, 2019.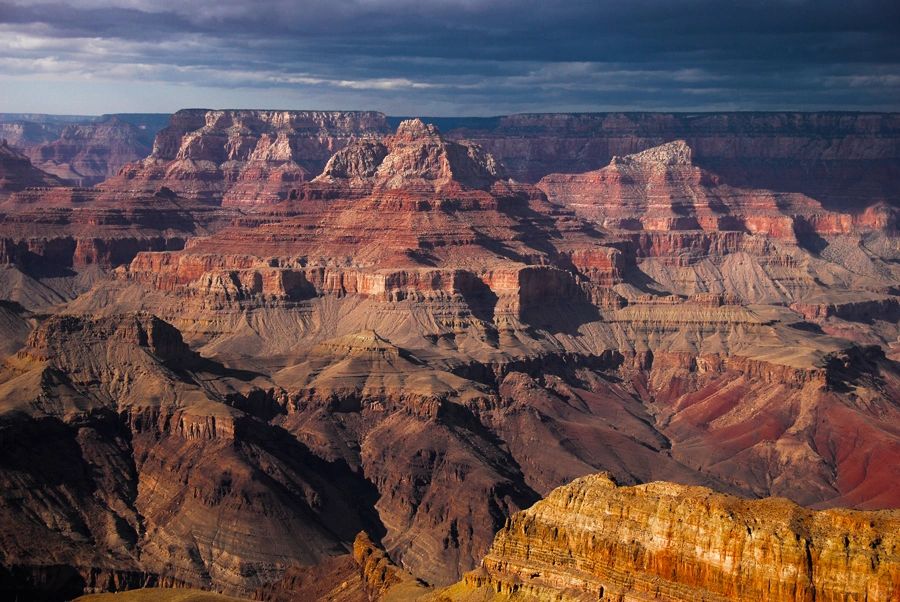 Zion National Park "Utah's First National Park" is a southwest Utah nature preserve distinguished by Zion Canyon's steep red cliffs. Located at the junction of the Colorado Plateau, Great Basin, and Mojave Desert regions, the park has a unique geography and a variety of life zones that allow for unusual plant and animal diversity. Numerous plant species as well as 289 species of birds, 75 mammals (including 19 species of bat), and 32 reptiles inhabit the park's four life zones: desert, riparian, woodland, and coniferous forest. Zion National Park includes mountains, canyons, buttes, mesas, monoliths, rivers, slot canyons, and natural arches. VIDEO: https://www.youtube.com/watch?v=XrF1cSzaeAY&list=RDQM-2HACxu7gis&start_radio=1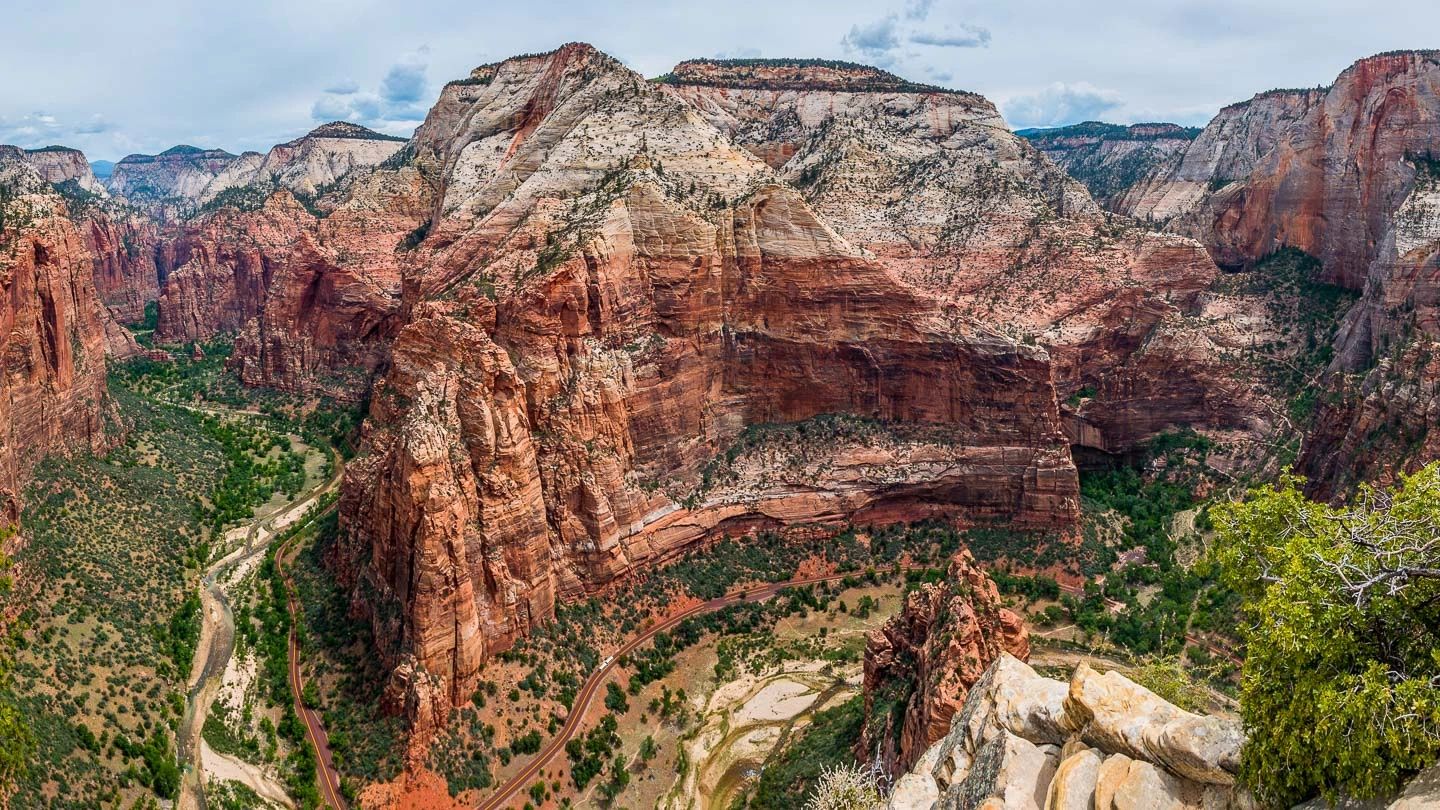 Antelope Canyon in Arizona
Most-visited and most-photographed slot canyon in the American Southwest. Frequently subject to flash floods, Antelope Canyon can only be visited through guided tours because of the extreme danger. Still, it has managed to become the most-photographed and most-visited slot canyon in all of the American Southwest due to its beauty. Formed by millions of years of wind and water erosion, Antelope Canyon's magnificent smooth and flowing shaped sandstone has made it one of the most famous slot canyons in the world. Located within the LeChee Chapter of the Navajo Nation in Arizona, Antelope Canyon is actually two separate canyons, the upper canyon and lower canyon. (We will visit the LOWER Antelope Canyon) VIDEO: https://www.youtube.com/watch?v=t4nM1FoUqYs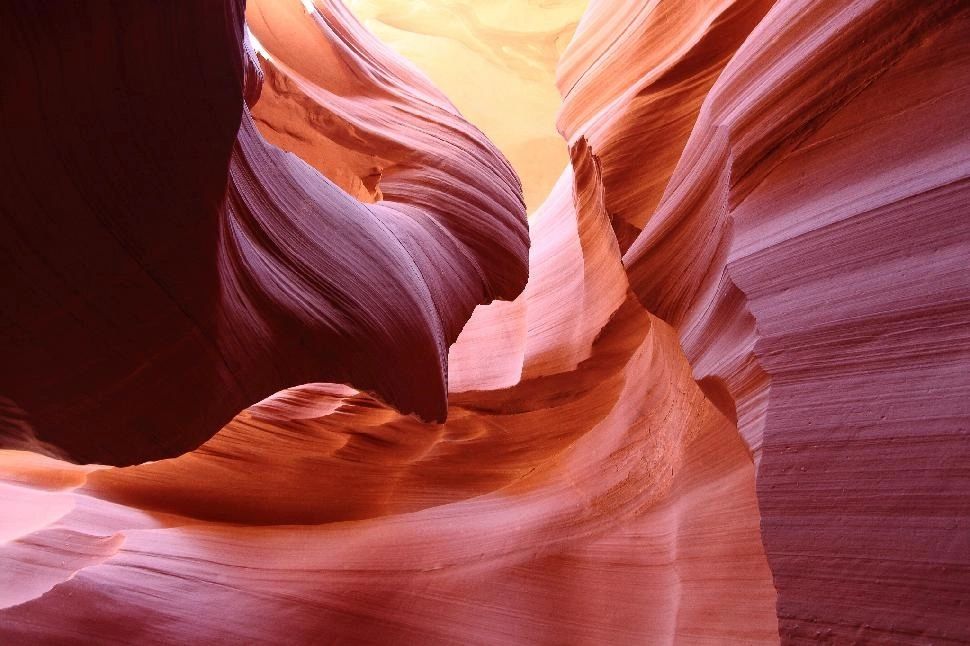 Horseshoe Bend in Arizona is one of those rare places that is absolutely breathtaking, yet it is accessible to people of all hiking skill levels. A very short hike off a highway takes you to the top of a cliff overlooking Horseshoe Bend and the Colorado River over 1100 feet below. Horseshoe Bend is a horseshoe-shaped incised meander of the Colorado River located near the town of Page, Arizona. Horseshoe Bend is located 5 miles downstream from the Glen Canyon Dam and Lake Powell.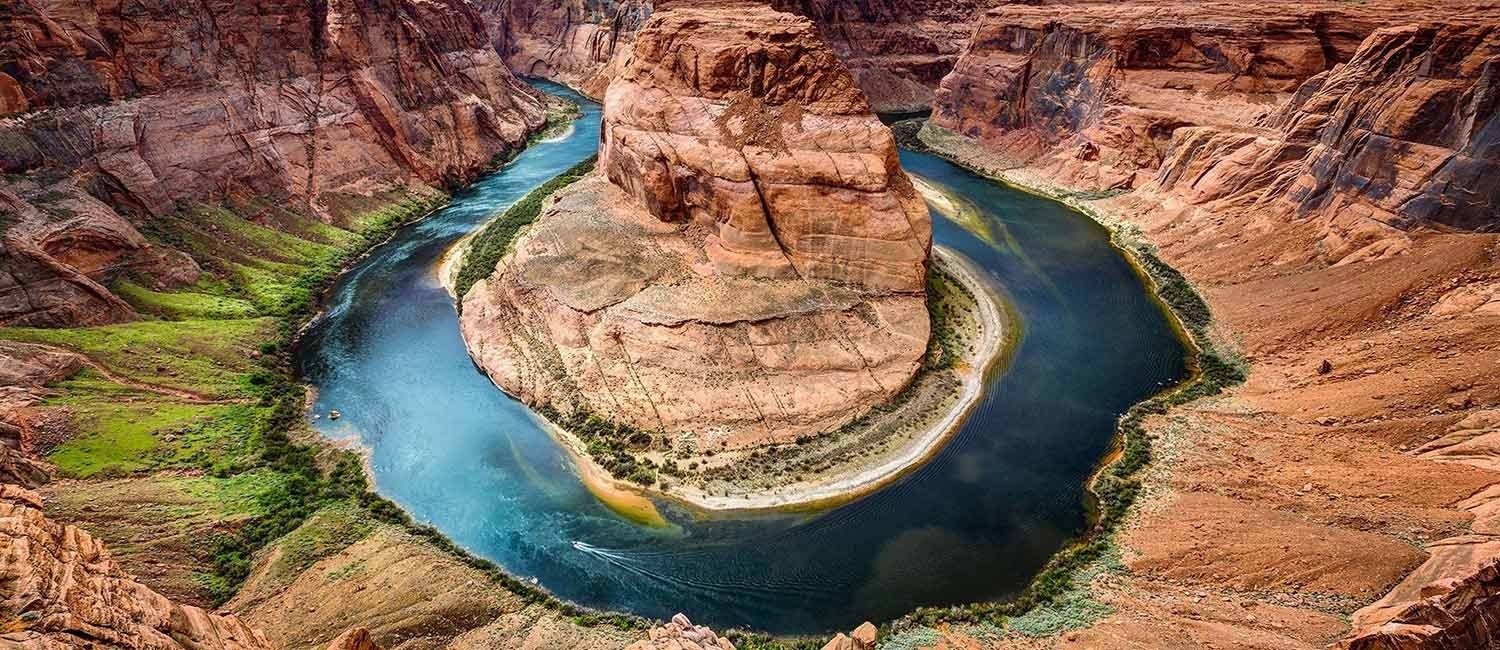 Bryce Canyon in Utah (Red Rocks, Pink Cliffs, and Endless Vistas)
Over two million visitors come to experience the otherworldly magic of Bryce Canyon National Park each year. Bryce Canyon National Park in Southwestern Utah is famous for the largest collection of hoodoos (the distinctive rock formations) in the world. Bryce Canyon's red-orange-pink amphitheaters stage a Norse myth 70 million years in the making. The park's main road leads past the expansive Bryce Amphitheater, a hoodoo-filled depression lying below the Rim Trail hiking path. It has overlooks at Sunrise Point, Sunset Point, Inspiration Point and Bryce Point. Prime viewing times are around sunup and sundown. Nowhere else in the world can you find rock pinnacles with fantastic shapes like the ones found in Bryce Canyon National Park. Located in the High Plateaus region of the Colorado Plateau in Utah, Bryce Canyon's elevation, erosion, climate and rock type are all elements that, when combined, form fantastical shapes called Hoodoos.
VIDEO: https://youtu.be/p7kC0EpClCM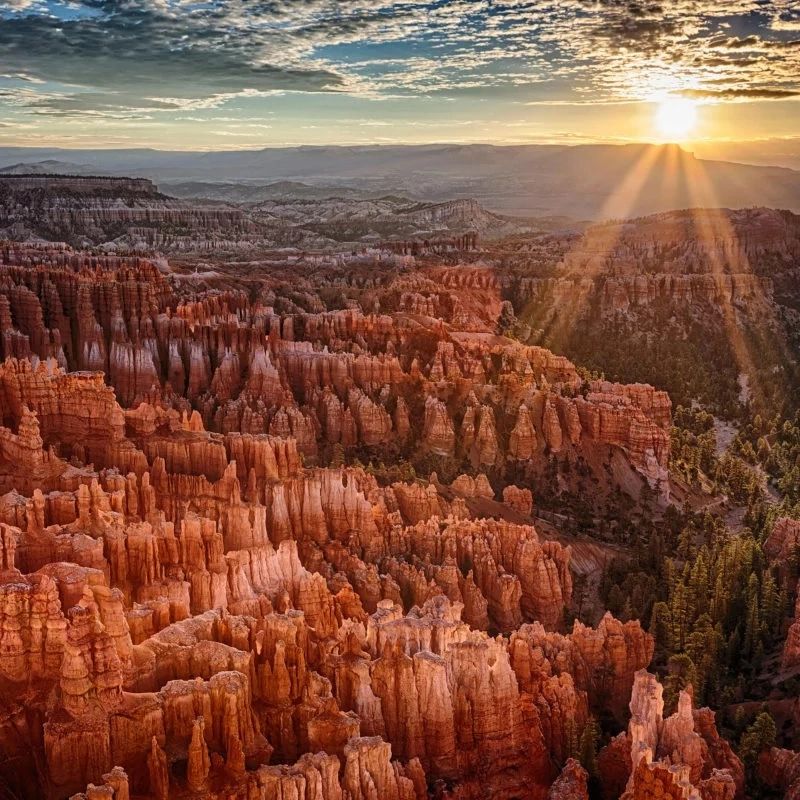 Coral Pink Sand Dunes State Park
Coral Pink Sand Dunes State Park is a state park in southwestern Utah, United States, located between Mount Carmel Junction and Kanab, south and west of U.S. Highway 89 in Kane County. The park features uniquely pink-hued sand dunes located beside red sandstone cliffs.



Valley of Fire State Park in Nevada
Valley of Fire State Park is a public recreation and nature preservation area covering nearly 46,000 acres located 16 miles south of Overton, Nevada. The state park derives its name from red sandstone formations, the Aztec Sandstone, which formed from shifting sand dunes 150 million years ago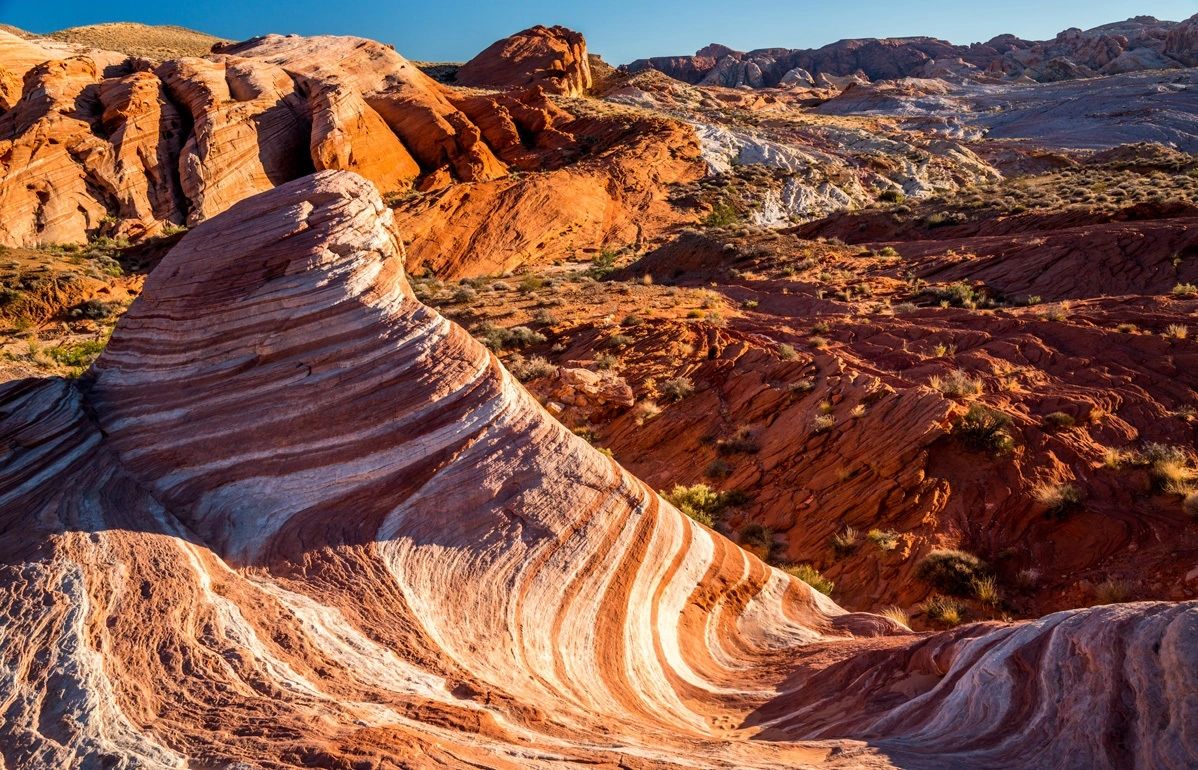 Las Vegas, Nevada
The City of Las Vegas and often known simply as Vegas, is the 28th-most populous city in the United States, the most populous city in the state of Nevada, and the county seat of Clark County.
Las Vegas is an internationally renowned major resort city, known primarily for its gambling, shopping, fine dining, entertainment, and nightlife. The Las Vegas Valley as a whole serves as the leading financial, commercial, and cultural center for Nevada.



Red Rock Canyon National Conservation Area (about 30 km west of Las Vegas) lies in Nevada's Mojave Desert. It's known for geological features such as towering red sandstone peaks and the Keystone Thrust Fault, as well as Native American petroglyphs. Panoramic viewing spots dot the 13-mile Scenic Drive. The sheltered Ice Box Canyon has seasonal waterfalls. To the south, Spring Mountain Ranch State Park features historic buildings and hiking trails.



**Optional activities in Las Vegas:
• Attend a show - check the schedules here: https://www.vegas.com/shows/
• Fremont Street Experience – 'Old' Vegas
• Hotel hopping on the Las Vegas Strip
• See the Volcano erupt at the Mirage
• View the Dancing Waters at the Bellagio + Bellagio Conservatory & Botanical Garden
• The Grand Canal Shoppes at The Venetian
• Visit the Mob Museum (National Museum of Organized Crime) // Titanic: The Artifact Exhibition // The Neon Museum // Madame Tussauds - Las Vegas
• Ellis Island Casino & Brewery
• The LINQ Promenade: an entertainment, shopping, and dining district located between The LINQ Hotel and Flamingo Las Vegas
• Enjoy a great dinner buffet in Las Vegas. Suggestions: https://www.lasvegashowto.com/top-10-las-vegas-buffets
Note
Singles Travel
>> If you need a roommate, please ask. Not guaranteed.

Level of difficulty: Easy-Medium (for beginner hikers)
As a minimum, you will need an average level of fitness and mobility to join this tour. Partaking in small group travel can be more "physically demanding" than your more conventional holidays. You should be able to walk 1.5-2 hours without the aid of another person, climb a couple of stairs, step on and off buses and other forms of transport.
The hikes are a maximum of 1.5-2 hours and are NOT very challenging. In each location, we will have approx. 1.5-2 hours of guided walk/hike to see the attractions and take pictures.

Travel Documents
US Immigration requires that all travellers MUST have a valid passport (or Nexus or EDL cards). If you do not have a Canadian or USA passport, please make sure that you have the appropriate permissions or documentation to travel to the USA.
YOU CANNOT TRAVEL IF YOU DO NOT HAVE ALL REQUIRED TRAVEL DOCUMENTS, SUCH AS PASSPORT AND VISA (if applicable).

Emergency Medical/Travel Insurance
Emergency medical & trip cancellation insurance is highly recommended for all passengers.
If you do not have coverage under an existing policy, we recommend you to Get A Quote: Manulife supports the health and safety of Canadians by offering specialized travel insurance for COVID-19. NEED HELP? Call 1-844-378-3891 Monday - Friday, 8 a.m. to 8 p.m. ET //OR// Email to: am_info@manulife.ca //OR// Get a quote/book online here: https://insttrip.manulife.com/

Itinerary Changes
The itinerary is subject to change at any time without prior notice due to unforeseen circumstances/weather and road conditions.

Weather in the destination: IN APRIL
Phoenix, Arizona: Average High: 30 C , Average Low: 15 C
Page, Arizona: Average High: 21 C , Average Low: 8 C
Grand Canyon, Arizona: Average High: 16 C , Average Low: -2 C
Bryce Canyon National Park, Utah: Due of its high elevation climate, the weather at Bryce can be relatively cold. Visitors need a jacket! Average High: 12 C , Average Low: -4 C
Zion National Park, Utah: Average High: 15 C , Average Low: 2 C
Las Vegas, Nevada: Average High: 27 C , Average Low: 7 C

Distances in KM. our itinerary:
Day 1) 186 Km = 2 hrs
Day 2) 183 Km = 2 hrs 10 min
Day 3) 215 Km = 2 hrs 25 min
Day 4) 245 Km= 2 hrs 45 min
Day 5) 200 Km = 3 hrs
Day 6) 95 Km = 2 hrs
Day 7) 390 Km = 5 hrs
Day 8) 60 Km --- Flight back

***************************************

If you have any questions, please email to info@funtours.ca - or call: 416-897-3020